Ontario native, Justin Bieber, loves to show pride in his home country of Canada. Most recently, the pop sensation took to Instagram to show his support of the Toronto Maple Leafs in the Stanley Cup Playoffs. Like every other post, he received thousands of replies ranging from ecstatic to outrageously insane.
But there was one commenter that seemed to really get under Bieber's skin. A Winnipeg fan said one of the more tame things in the comment section, but it was apparently something the Biebs needed to respond to. He simply said, "Go Jets."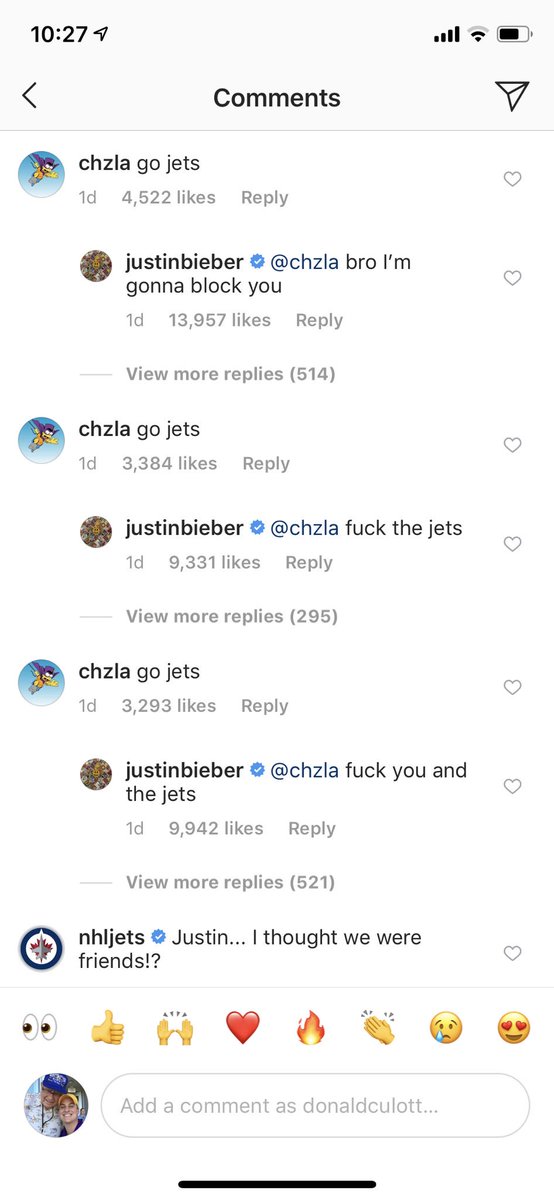 Just two words from a fan of a team that the Leafs aren't even playing warrants a block now. So what does the fan do? That's right, call his bluff and comment the exact same thing. Two more times, all getting more and more aggressive responses.
Who knew it was this easy to get a reaction a short tempered premadonna. But really, what is Justin Bieber doing responding to a guy with 350 followers while he has millions of fans who would do unspeakable things to get a like from him. If I knew it was this easy to get the attention of celebrities, I would have done it a long time ago.
I also love how the Jets came in at the end and tried to salvage the relationship.