For the first time in a while, the best two teams in the Eastern Conference have made the Conference Championship. Usually, it's whoever the Raptors and Sixers choke against versus the ragtag bunch of G-leaguers LeBron threw together. But now, LeBron is gone. And the Eastern Conference Playoffs are finally unpredictable and watchable.
The Raptors and the Bucks series starts Wednesday. 1 vs. 2, all-stars and future Hall of Famers vs. all-stars and future Hall of Famers. Kawhi and Giannis are top 5 players in the NBA and are joined by starting lineups full of studs. But, were these amazing basketball players always considered amazing? Who out of the 10 players that comprise these two starting lineups was considered the best when being drafted into the NBA?
Might want to be sitting down for this one.
Is it Giannis? Some teams take chances on foreign players and draft them super high. But no, he is tied with Kawhi for second highest at 15th overall.
What about Eric Bledsoe? A lot of Kentucky guys get drafted pretty high. Especially in that first Calipari class that included John Wall and Demarcus Cousins. But also no. He wasn't taken until 18.
In fact, there was not a single player in either starting 5 that was taken in the single digits. Only one lottery pick between the two. And that one player is Brook Lopez who was take 10th overall in the 2008 NBA Draft. 10th overall and also the 10th best player out of the two starting lineups.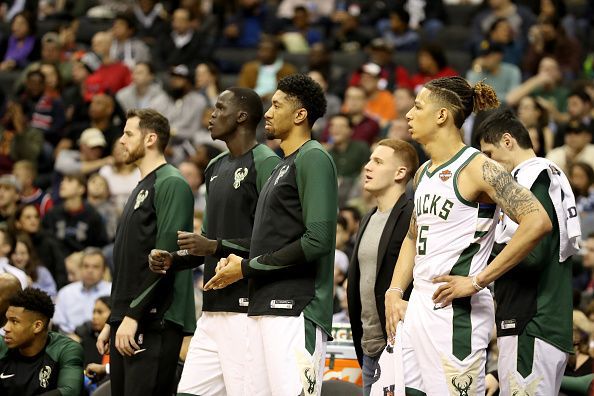 Here is how the rest of the players stacked up in their respective drafts:
Bucks:
Bledsoe- 18th
Mirotic- 23rd
Middleton- 39th
Giannis- 15th
Lopez- 10th
Raptors:
Lowry- 24th
Green- 46th
Kawhi- 15th
Siakam- 27th
Gasol- 48th
This has got to be some kind of sick joke. Lopez plays like he Patrick Ewing in Space Jam right after he got his powers stolen by the aliens from Moron Mountain. Brook's (girl's name) lack of an ability to rebound will be what kills the Bucks if they lose this series.