Wrestlemania season is finally upon us but ever since the Royal Rumble, things have not gone too well. First off, the rumors of literally everyone going to AEW are just annoying at this point. AEW will never be what WWE is, but I'll stay for the drama if it gives us what we want from Vince. Will the AEW be successful? Probably, but it will not even come close to the product that WWE puts out every week. AEW is not on network television, so as long as that is kept off air, I will not care. Lastly, they're building a company based off a 48 year old Chris Jericho and (allegedly) a 35 year old Kenny Omega, so call this New Japan. It won't do anything to WWE. Now onto the real stories.
There are a ton of injuries to top stars right now. Seth Rollins has injured his back and it may keep him out of Elimination Chamber. After fighting with Brock for awhile last Monday, Seth hasn't been seen since. The reports are that Seth is resting his back, but with a back it could always be more serious. Being held out of Elimination Chamber probably wouldn't be the worst thing in the world for Seth. He needs the rest and honestly the longer he is out, the better product he will be able to produce against Brock. I hope to see him back soon, that way we know he's okay, but I would also be perfectly content with Seth resting until the middle of March, just to prepare for Brock. I think he'll be at Wrestlemania, unlike AJ.
Aj Styles does not have a serious injury, it's a hernia. AJ is probably one of, if not the best wrestlers on Smackdown. He has had 2 amazing title runs, including one of my favorite matches against Cena at the Rumble in 2017. He will not miss much time due to his hernia and he was on Smackdown last night but only a short segment. BUT….I do not think that AJ makes it to Wrestlemania unfortunately. I do not see him in the Title hunt, unless they already move him to Raw. Styles will be reduced until then and I think he will be the first to feud with Rollins after he bests Brock.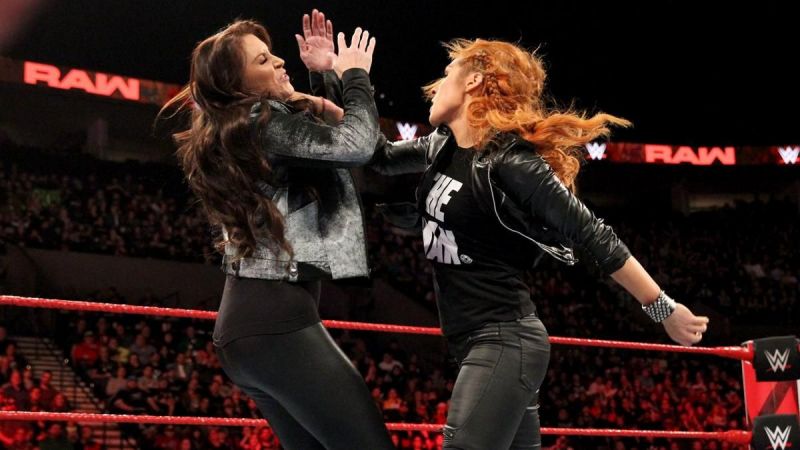 Lastly for injuries, Becky Lynch. I do not know why they are building towards a Stone Cold vs Vince era between Becky and Stephanie, but I might like it. On Monday, Stephanie suspended Becky until she sees a specialist on her knee, which she injured during the Royal Rumble. Obviously we know Becky is okay and will fight at Mania. I feel like it is just a show and Stephanie will ultimately mess with Becky. She may even try and hold her out against Ronda (to protect Ronda) but Becky always finds a way. Plus, this is another storyline that just proves Becky is coming to Raw and will likely have a long title run there. I'm excited for this potential.
Some rumors I have heard…
AEW is in talks with a HUGE WWE star…it's Randy Orton. He won't go anywhere. If there is any truth in this, WWE will lock Orton up and he will remain on the roster, poised for another Title Run (hopefully with AJ).
The Usos may leave the WWE. This is more likely than Orton. Tag Teams are dragged down under Vince and the Usos, New Day, and the Bar are the top 3. AEW is said to put emphasis on Tag Teams, so maybe Usos go there. I think it's about 75/25 that they stay.
Becky Lynch is not injured at all and it's a work. Of course it is.
Lastly, Triple H will not be fighting at Wrestlemania. I think I'm a bit premature in reporting this, but logistically and for health reasons, there is no way he fights at Mania.