We have entered the dog days of summer where it's basically just baseball for the next few weeks. Don't get me wrong, I'm a huge Reds fan, but with college football just around the corner it's hard to stay focused. College Football I love, but for the sole reason that Basketball is just a few more months away. When Calipari came to Kentucky, he brought the program back to where it should be and this year is no different. With the number two recruiting class and a ton of players returning, Kentucky is set out to do what it did in 2012 and this is the team to do so.
The role that maybe scares me the most, the big men. The bigs are definitely improved. Not only do we return Nick Richards and EJ Montgomery but Kentucky adds special talent to help them out. Kahlil Whitney is the player I am most excited for next season. After watching hours of his highlights, he reminds me of Michael Kidd-Gilchrist with the jumping ability of Hamidou Diallo. Expect two alley-oops a game and several players' careers being ended by getting dunked on. Along with Whitney, Kentucky brings in Keion Brooks, Dontaie Allen, Johnny Juzang, and Nate Sestina. Allen could be a legit player once he is healthy, and Keion brings on a special skill set including rim protector. Juzang could be this years Tyler Herro will his shooting ability and Sestina brings the experience and the shooting/defensive ability needed. But when we look at the 5, only three people can play it: EJ Montgomery, Nick Richards, and Nate Sestina.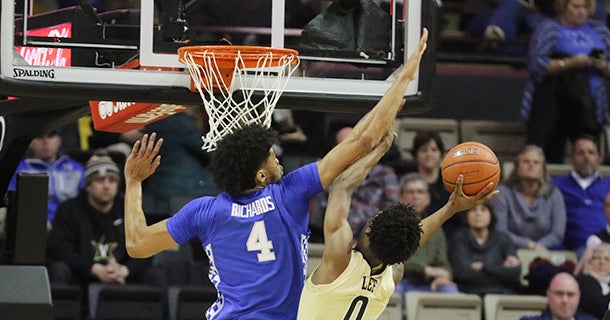 First off, the most important piece is Nick Richards. He is probably the biggest question mark mainly because he is just so damn inconsistent. If he can play like Bam did where he'd get 10-15 rebounds scoring a few here and there that's about all we can ask for, but we've seen how much fouling comes into play with him but as a Junior let's hope he can work on that. EJ is going to be different. Much like Hagans, EJ added some muscle and has been in the gym daily. I think he'll play like a peak WCS with glimpses of KAT on the shooting end. Nate Sestina is going to be a lot like Kyle Wiltjer just imagine more height, more athleticism and the ability to actually play defense. Dude can shoot and defend, so he'll be a solid option for when Richards or Montgomery inevitably get into foul trouble. I think it's definitely our weakness, but our plethora of forwards (3/4 position) allow this team to hide it if need be.
For only the second time in the Calipari era, Kentucky returns four players who averaged double digits in minutes and more than 4 points per game. The last time that happened? Kentucky went 38-1* and got screwed in the Final Four with a non call on a shot clock violation. Now to sit here and say this team will go 40-0 is just outrageous, but they can make a run. They return their guards in Ashton Hagans and Immanuel Quickley who both improved tremendously as the season progressed. They both could be apart of the best backcourt in college basketball next season along with Tyrese Maxey. Tyrese Maxey has an uncanny ability to get to the rim. Think of John Wall with the ability to shoot outside of 15 feet. He's going to be a special player and I can see him assuming the starting role at point guard if Hagans is underperforming but they'll be a great mix.
Obviously there is one more option: N'Faly Dante. While Dante is 6'11", he has a wingspan of 7'5" which just makes him a beast. Watching some of his highlights, I feel like Dante is the closest to Bam. Bam was an absolute tank but he wasn't the best shooter. His defense will set him apart from the others as he is a complete package with shot-blocking and rebounding and the ability to switch off the pick. The issue Dante may have is his outside shot. While he drains threes in his videos, his shot is just so inconsistent. With his height, he has the ability to again rebound and dunk but he'll need to develop an outside shot and it will take patience from everyone. He has the peak of a Karl Anthony Towns with his athleticism and he can grow into a shot and with Kenny Payne, this is possible. With the Jam coming to an end, N'Faly showed he is college ready with his shot blocking and dunking ability. Now we just wait for him.
My thoughts stay the same, N'Faly will be a Wildcat just give him some time to get everything sorted out. This week showed he's ready to go and he'll add a much needed depth in the 5 spot. Be sure to follow us on Twitter @soft7sports and on Facebook.