Since we're in the historic 150th year of the Cincinnati Reds franchise, I've decided to rank the most influential/best Reds players of all time. I'd like to start this off by saying that #6 is Joey Votto…right now. I think when it is all said and done Votto will crack the top 5 due to this longevity and his ability to change any game he is in. Votto has done so much for this franchise, including sticking in and not demanding to be moved in the recent struggles. Votto will always be a personal favorite of mine and I truly think that he will be remembered as a top 5 Red of all time when everyone has time to truly look back and realize what he has done for this historic franchise. Let's begin.
You know you had a big impact on a franchise when they wear a patch honoring you throughout a season. He could be a lot lower on this list if it wasn't for DeWitt trading him because he was a "old 30," but nevertheless he remains in the top 5. In his 10 seasons with the Reds, Robinson won Rookie of the Year, MVP, made 8 All-Star squads, and his only Gold Glove award in his career. He hit .303 with 324 home runs, 1,009 RBI, 1,043 runs, 161 stolen bases, and 1,673 hits. Robinson won both the AL Triple Crown and MVP the year after he left the Reds, but he is forever immortalized outside Great American. He was elected to the Hall in 1982, but chose to go in as an Oriole but who can blame him. He may have succeeded there, but the key reason he was in the Hall was due to his tenure in Cincinnati.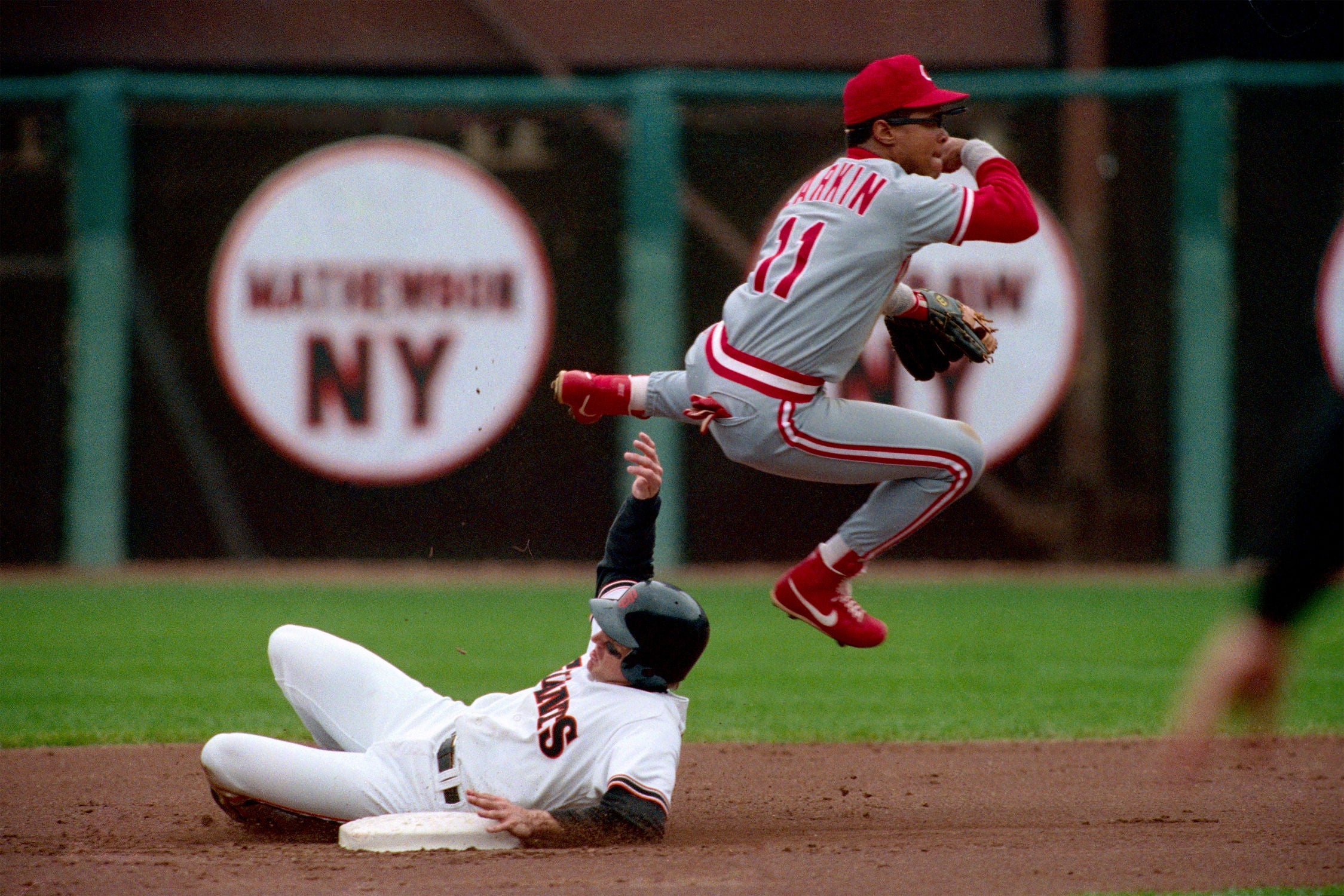 Barry Larkin is arguably the crowd favorite for everything in Cincinnati and it's well deserved. Had it not been for injuries, Larkin could have been lower on the list. Of his 19 seasons, he only played more than 120 games 11 times and had he stayed on the field more, he very well could have eclipsed 3,000 hits. Growing up in Cincinnati, he went to Moeller furthering his hometown hero persona. Between 1990 and 2000, Larkin was arguably the best shortstop in the game where he led the Reds to a World Series in 1990, won an MVP in 1995, and became the first shortstop to hit 30 home runs and steal 30 bases during the 1996 season. Over his 19 year career he won an MVP, World Series, 13-time All Star, eight-time Silver Slugger, and a three-time Gold Glove winner. Larkin was recently admitted into the Hall, having hit .295 with 198 home runs, 960 RBI, 1,329 runs, 379 stolen bases, and 2,340 hits.
With his bobblehead night approaching, Morgan hits the list the at third. He spent only 8 years of his 21 year tenure with the Reds, but he still is one of the best to wear the uniform. In his eight seasons, Morgan was an 8-time All Star, back to back MVP (75-76), two time World Series champion, and 5 time Gold Glove winner. During his time in Cincinnati, Morgan grew into one of the first speed/power threats that played 2nd…much like Brandon Phillips to put it in modern terms (just better though). In 1975, Morgan had a WAR of 12.0…yes, that's not a typo. He was a huge part of the success around the Big Red Machine and was elected into the Hall in 1990 and entered as a Red. During his time he hit .288 with 152 home runs, 612 RBI, 816 runs, 406 stolen bases, and 1,155 hits. Morgan had everything you want from a player which is why his 8 year tenure is memorialized so highly in the Queen City.
This was a tough pick for me. Everyone knows the top 2 players in the franchise but it's a toss up who you put first. Bench is the best catcher to ever play the game, in my opinion. As a catcher, he is second in all time home runs, third in RBIs, and fourth in runs. Like Morgan, he was a key part in the Big Red Machine. During the 1976 World Series, Bench hit .533 with two home runs, 6 RBIs, and four runs which still stands as one of the best World Series performances of all time. During his career, he collected 2 MVP awards, a World Series MVP, 10 Gold Gloves, 14 time All Star (13 consecutive), and finished as the team's all time home run leader. In his 17 year career, he hit .267 with 389 home runs, 1,376 RBI, 1,091 runs, and 2,048 hits which places him right behind the Hit King himself.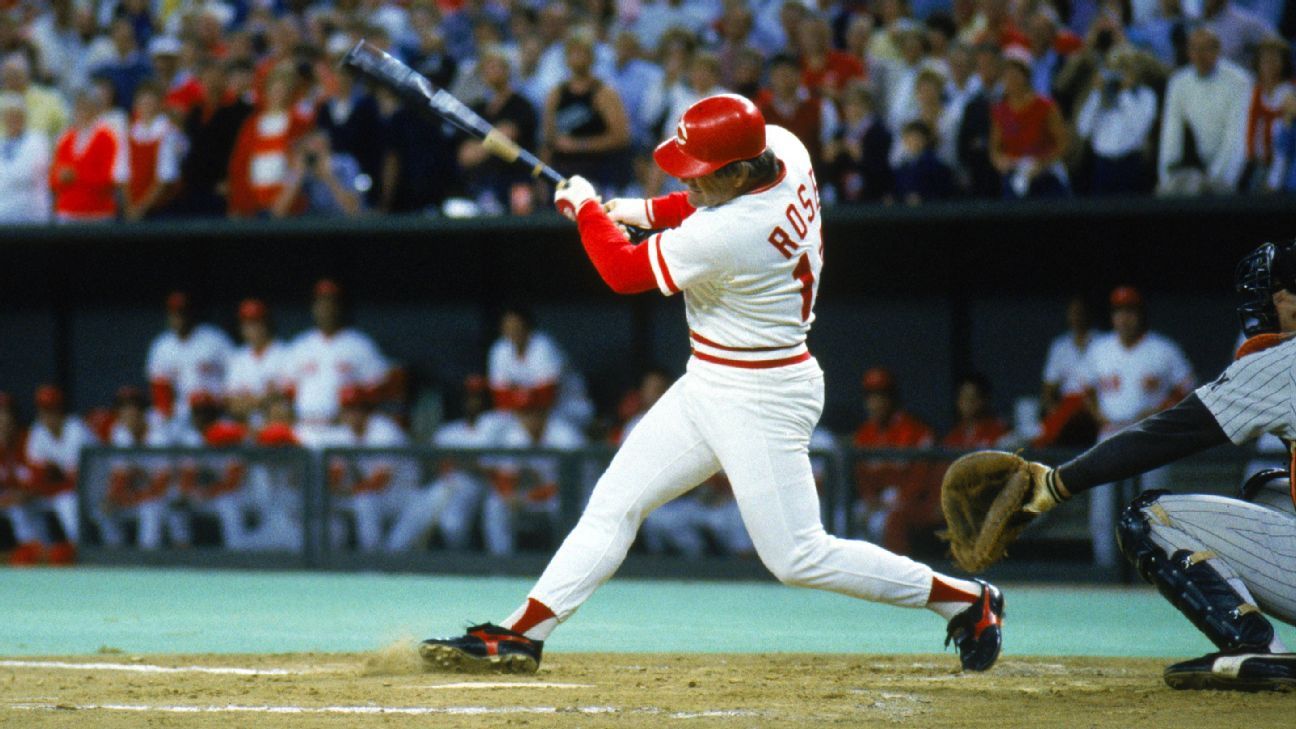 I've made my stance on Rose quite clear in an earlier article, check it out here if you want to read it, but regardless his stats alone make him the best Red ever. He is the definition of a hometown hero, growing up in Western Hills, playing high school in Cincinnati, and being drafted by the Reds. During his career, Rose became the all time Hit King with 4,256 and he also leads in games played with 3,563, plate appearances with 15,890, and at-bats with 14,053. In his 24 seasons, he made the All Star game 17 times, won 2 Gold Gloves, MVP, and a two-time World Series Champion. Regardless of how you feel about his gambling, he changed Cincinnati's baseball for the better. He changed the league and put Cincinnati right back on the map. As a Red, he hit .307 with 152 home runs, 1,036 RBI, 1,741 runs, 146 stolen bases, and 3,358 hits. Rose is not in the Hall and may not ever be, but what he did for the Reds ranks his at the top spot.
Let me know what you think of my list. You can tweet me @soft7juice or feel free to email me at soft7juice@gmail.com. Now, let's go beat the Nats.