With the NBA draft deadline come and gone, all eyes now shift towards probably the biggest transfer in years. Blackshear is one of those players that could change everything for the team that he is on and it seems that he is already down to three teams, with no intention to return to Virginia Tech. The three teams in consideration seem to be Kentucky, Florida, and Texas A&M. Let's take a look.
If Blackshear goes to A&M, he goes to a comfortable spot. He returns to his old coach in Buzz Williams and there comes a certain familiarity with the system and just with the overall feel of the team. I feel like Texas A&M is a long shot, due to just weaker competition and not really being a high tier program that has seen success like Florida and Kentucky.
Florida is an interesting case. They legitimately need him. They currently sit on a roster that just is missing an athletic big and he would start immediately with seemingly no competition. Mike White is a great coach and he could bring Blackshear to an elite scorer, defender, and allow him the opportunity to get drafted. Another thing Florida offers is the ability to play in front of his friends and family every night. Being from Orlando, it would allow Blackshear to improve his game while just being comfortable around his family.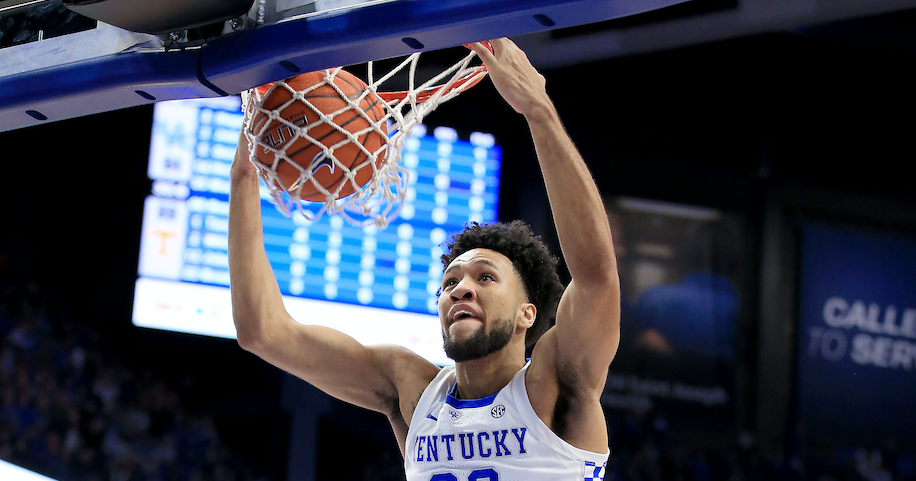 Lastly, Kentucky. Kentucky is the standard and like Sean McVay says, the standard is the standard. Kentucky comes with more uncertainty then any other team listed, mainly because there is a constant competition in practice and you're not promised anything, you have to prove yourself. For Blackshear, this presents the best opportunity to improve his skill set due to the plethora of forwards and a legit contender in EJ and Nick. He'll have to fight for his spot every single day, but I feel like this is why he came back. This is just my gut feeling, but Kerry came back to school to get better and improve his stock…Kentucky is the only school that I feel like could make a legitimate difference in the career. Sources were claiming a month ago that IF (and it was a huge if then) Blackshear withdrew his name, Kentucky would be the landing spot. A lot has changed, especially with Nick and EJ coming back, but I still like Kentucky's spot.
Prediction: This is solely based on what I have read and heard on Kerry, but it's between Florida and Kentucky. He loves the chance to play close to home and knowing he'll start immediately, but Kentucky offers a challenge to improve his game and actually offers a better chance of getting drafted due to the name alone and Cal's proven success with big men. I think Kentucky gets Kerry but we won't know for a few weeks. He is set to take some visits in the near future, but I think he'll be a Wildcat. What do you think?