Just a reminder, these were my predictions. Based on what I was hearing but sources can always be wrong. In fact, a new source has told me EJ is legitimately torn but thinks he will still return. As for Blackshear, I've heard Kentucky, I've heard Florida, but I have not heard him keeping his name in the draft. I still think Kerry and EJ come back, obviously I heard wrong about Nick. Again, just my predictions based on sources in Lexington. At Soft7 we want to be as transparent as possible and hope this doesn't deter you from our site.
**Original
Here we are, two days away from players having to announce what their intentions are on the draft process. We've heard updates from seemingly everyone except the actual players themselves. Here are the rumors going around per player. Let's start with EJ.
EJ is one of those players that could benefit from an extra year, much like Willie did in 2015. Again like Willie, EJ struggled his first year but showed signs every now and then that he could be a star. EJ was seen working out with former Kentucky great Tony Delk and Delk gave us some insight on EJ and his future. He believes EJ will stay in but said perhaps the most important thing is Tuesday, when he participates in Wasserman Pro Day out in Santa Monica. Delk says that will be the deciding factor for EJ due to "a lot of GMs" being there.
My Thoughts: EJ could benefit from coming back and I think he decides to come back and work on his game. He will be back but expect a late Tuesday announcement from him.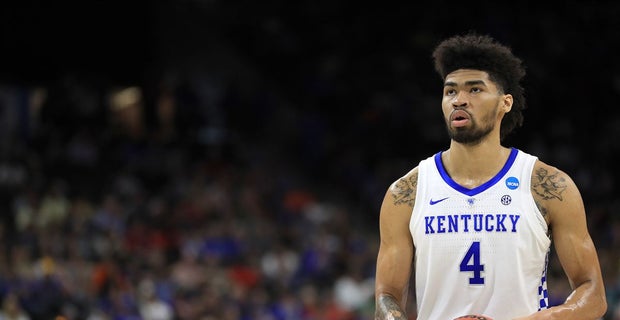 Perhaps the most quiet of the draft season, Nick Richards has a huge decision to make. When the draft rolls around next year he will be 22 years old and it's hard for me to see teams take a chance on his potential then. Richards has improved more than you think, especially in free throws and his rim protecting ability. He is someone who Kentucky could really use due to the lack of true height, but they could live without him. While he hasn't heard what he hoped, people around him have remained quiet.
My Thoughts: I've been back and forth on Nick. While I do not think he is ready for the draft, I feel like he personally is done with college and will test his shot overseas or even in the G-League. I think Nick stays in the draft but I think he will announce either later this evening or early in the morning.
Kerry Blackshear Jr is possibly the biggest X-Factor in Kentucky's 2020 season as it stands right now. With Blackshear, Kentucky would have another Reid Travis. Someone who can bully around and make a huge impact each game. He could be the guy Kentucky can rely on and I think Montgomery and Blackshear would be a top front court in the NCAA. Like Montgomery, he has not received the information he has wanted. He could polish up his game at a top program but this is just the opening battle for Kentucky. If he pulls his name out, he would then decide to return to Va Tech or transfer, but it is looking more and more like he would transfer.
My Thoughts: This is perhaps my most confident pick. I think he withdraws his name from draft consideration because he realizes how strong this draft is compared to next season. If he has an amazing year, he could be a first round next year and I think he realizes that. I also am confident to say that if he takes his name out then he will be a Wildcat. Expect the announcement to come simultaneously sometime tomorrow afternoon.