DK Metcalf has similar dimensions to a future unanimous Hall of Famer and everyone has lost their mind. He has a height and weight that is close to Julio Jones so that must mean that he is just as good if not better. Can't say he is or he isn't yet, but let's not forget that this guy has yet to play a single down in the NFL. It's like saying Zion will be better than LeBron James only we actually knew who Zion was while he was in college.
At Ole Miss, Metcalf had a total of 67 receptions. Julio had more than that in one season. Julio also had 1,500 more yards and 3 more touchdowns. But if stats aren't your thing because they are for losers, Julio Jones played for Alabama. A team with a run first mentality that got their first real quarterback last year. Jones' QB in college is now an analyst for the SEC Network.
It wouldn't be surprising if Max Kellerman himself had this graphic created: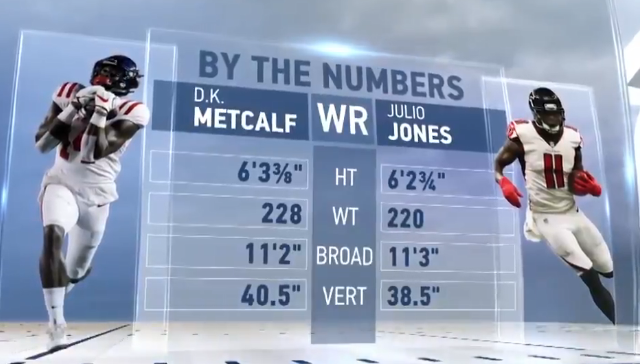 One thing this comparison graphic conveniently leaves out is Metcalf's 3-cone drill time which was slower than Tom Brady's. Maybe he is a Hall of Fame quarterback too. Brady is 6'4″ and 225 after all.
Darren Carrington is the same height and weight as Jerry Rice. Where is his comparison? Nowhere to be found, because that is a stupid conclusion to jump to. Antonio Brown proves that height is not most important factor in a great wide receiver and Kelvin Benjamin proves that weight is not as important as we all think. Every wide out has a similar broad jump and vertical, because, guess what… they are professional athletes. They are freaks of nature that can run faster and jump higher than everyone else on earth. That is why they get paid millions of dollars.
Even if DK does pan out in the NFL and puts up Julio-esque numbers, I will never believe that he is as good at football until he has his own defensive highlight tape to accompany his touchdown reel.
Probably says more about Matt Ryan than anything else.