Last night was Wrestlemania and to be completely honest, it was just alright. It started with a bang with Seth winning the Universal Title from the Beast, Brock Lesnar and the match itself was just mediocre. It was just a huge bullying session by Brock and then Seth reverses one and it's over. It was the third fastest Title winning match at Wrestlemania and it seemed rushed. Vince stacked the card, but it just could have been better. I'm going to rank my top 3 matches of the night, biggest surprise, and then my biggest disappointment.
When they were brought to the WWE a year ago, everyone knew they would eventually win the Tag Team Titles but we did not know when. No one knew if Team Boss N Hug would get their Wrestlemania moment or if the IIconics would and it ended the right way. With the IIconics winning the titles, it opens Bayley and Sasha up for a good solo run and a good feud. They have been in the same stupid storyline for over a year now and this allows them to finally get out of that. They made tag team history, now let's move on. For the IIconics, this is just the beginning. At Payback they'll retain against Boss N Hug and begin a very lengthy title run that they deserve. This was a really good victory early on in the PPV.
So what they built towards since the last Saudi PPV completely went the opposite way. Shane bullied the Miz's dad and it completely flipped a switch in the Miz. He became the aggressor and absolutely destroyed Shane. In my preview I expected Shane to win, but he won due to the Miz getting "hurt" which I also called. This match was everything we needed. "Falls Count Anywhere" and that's exactly what happened when the Miz suplexed Shane off a high area and they landed on the hardest object (it was defintely just a cushion that the WWE put there) imaginable. Then, Shane was on top of Miz and the ref counted 1, 2, 3 and Shane got his win. Here's the video. But what a great match.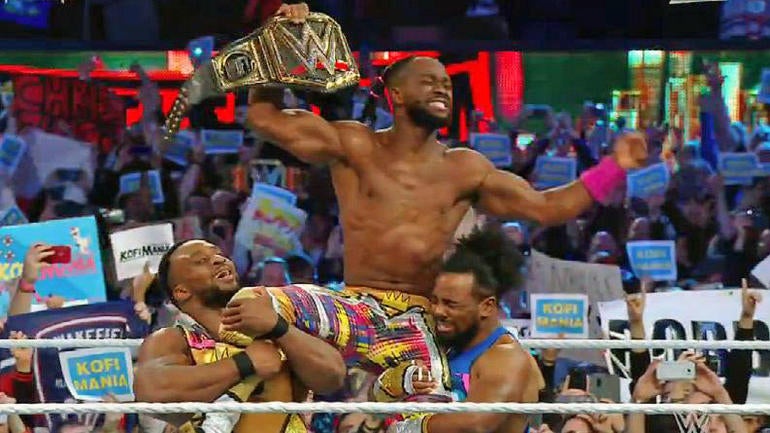 I can't say enough about this match. It was such an amazing back and forth without knowing who would actually win. Bryan put Kofi in so many LeBell locks that Kofi at one point looked like he was about to pass out. Kofi on the other hand, delivered time and time again with reversals and key momentum swings, including his Trouble In Paradise which won him the match. The match was truly beautiful but I want to appreciate the actually storytelling done by Vince. He listened. When the Authority took over, they said they'd listen to the fans and this is exactly what was needed to show us. Kofi was never going to get a Title shot and he knew that, everyone did, and everyone was fine with that. But when Ali got hurt, Vince threw Kofi out there and when Kofi and Bryan fought at Elimination Chamber, everyone saw how unreal the two were together. Vince continued to make him work for it while displaying some old school heel Vince along the way. Another thing I loved was how Big E and Xavier Woods ran into the ring to celebrate along with Kofi's kids. What an unreal Wrestlemania moment and the match of the night.
The Dr. of Thuganomics interrupted Elias and "turned heel" while doing so. He began to rap and humiliate Elias. Honestly it was a much needed comic relief and not to mention how dope his entrance was. Watch here. But what's next for Cena? Rumors say that he is the one who wanted to bring back the Dr. of Thuganomics gimmick but does that mean he sticks around awhile? I hope so. My hope is Vince continues to screw Kofi and has Cena win the Title pretty quickly off of him, but that's just me. Regardless, what a dope moment. Now let's get to the biggest disappointment…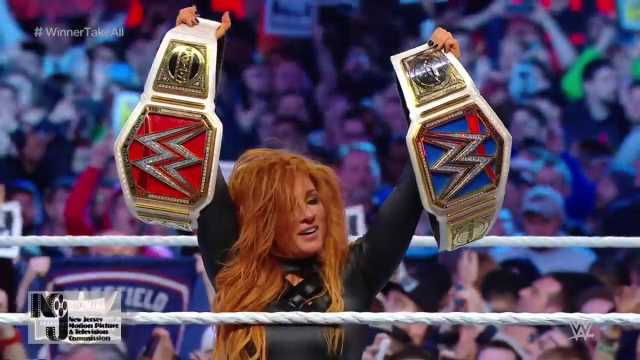 Look, this was such an iconic moment for the Women's Division. No matter what anyone thought of the in-ring product, this is the future and what a great job by Becky, Ronda, and Charlotte. Before I talk about the match, thank you to Ronda. She gave the WWE Women's Division the push it needed and gave them the highest profile name in wrestling, so thank you Ronda. With that being said… what an awful match. They risked absolutely everything but the best fighting came form Flair and Lynch. I wanted so much more Becky v Ronda and Flair v Ronda due to the storytelling, but it seemed like Ronda got hurt early and it kinda changed everything. Flair and Lynch had an amazing match and it sucks that Flair did not win but it was the right call. Ronda apparently broke her hand pretty severely and it definitely had an impact on the match but the ending seemed botched and according to people on Twitter, it was. Apparently Flair was supposed to tap out to Lynch but Becky rolled Ronda up after a Piper's Pit and pinned her… but Ronda's shoulders were not done. It seemed a lot like a Montreal Screwjob because Ronda was severely upset at the ending because it "made her look weak." I agree. Flair should have taken the fall and it seemed like it was the plan… to only Ronda. Becky, the ref, and Charlotte all seemed to expect the roll up and the ref whispers something into Becky's ear then Ronda's at the end. It was either a screwjob or a botch but regardless it disappointed.
Well, Wrestlemania is finally over after seven and a half hours. But where do they go from here? We'll find out tonight on Raw. Tweet me during it @soft7juice on twitter.