I mean honestly, who thinks he will? When Cal stepped onto Kentucky's campus in 2009, he said Kentucky was his dream job and it would be his "last job ever." Cal has it made here. He has "not flown commercially since he stepped into Lexington" (s/o Doug Gottlieb). The only reason this rumor is coming out is because Kentucky has a really good chance at winning at title. The National Media has always and probably always will try to create chaos at Kentucky just to distract them, but we'll show them when Cal celebrates his 2nd and the Cats bring home #9 this April.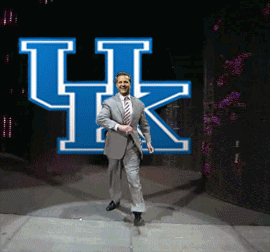 Look, these media members have zero sources. This came not from 24/7 sports, but their UCLA people. Kentucky fans did the exact same thing when we said "Billy Donovan is coming to Kentucky." These media people are the same people who said Cal was going to the Knicks, the Cavs, the Lakers, the Heat, etc. Simple, it's not happening. Cal loves Kentucky, so does his wife. He has his kid playing for him, too. If UCLA is interested, it'll take a ton more than $10 million. Cal does not have enough years to rebuild the catastrophe that they let Lavar Ball cause. Plus, Mitch will give Cal ANOTHER raise this offseason, bet.
Cal is not leaving Kentucky, not until he's dead. Cats win #9, #10, #11 with him. I may be critical of him, but Kentucky can do no better and neither could Cal. Can't wait to cut the nets down and laugh at UCLA… again. Go Cats.