Finally, we have reached the last week until the regular season starts. I have previewed the AL East, AL Central, AL West, NL West, NL East, and now the NL Central aka the best division in baseball this year. Just a reminder, sometime in the next week I will release my official playoff predictions (with seeding) and my World Series winner. Let's get started on the crowded NL Central.
Projected Lineup: Matt Carpenter 3B, Paul DeJong SS, Paul Goldschmidt 1B, Marcell Ozuna OF, Yadier Molina C, Harrison Bader OF, Dexter Fowler OF, Kolten Wong 2B.
Projected Rotation: Miles Mikolas, Jack Flaherty, Michael Wacha, Dakota Hudson, Adam Wainwright, Carlos Martinez
The Cardinals struggled last season for a long time, but towards the end of the year the got it together and made a run at the postseason… but they fell short. This year I expect them to maintain a winning record all season and eventually overtake the Reds late in the year. The Cardinals signed the 3rd best "available" (through trade) player this offseason in Paul Goldschmidt. This allows them to have a full time first baseman as well as another .300+ hitter in their lineup. I see their main issue being their starting pitching. They do not have a great rotation and they are all aged. For them to win the World Series, they'll need better starting pitching towards the end of the year. Another question mark is Yadier Molina. Yadi is old. If he continues to deteriorate like last season, this could be the end of his reign in St. Louis. Harrison Bader also needs to produce offensively. He is great defensively, but they need more hits and runs from him. Lastly, Matt Carpenter. If Carpenter can bring what he brought during the 3 month span last season all season, then the Cardinals may break 100 wins. But, he won't because he is not on steroids anymore…Cardinals win the division and finish 90-72.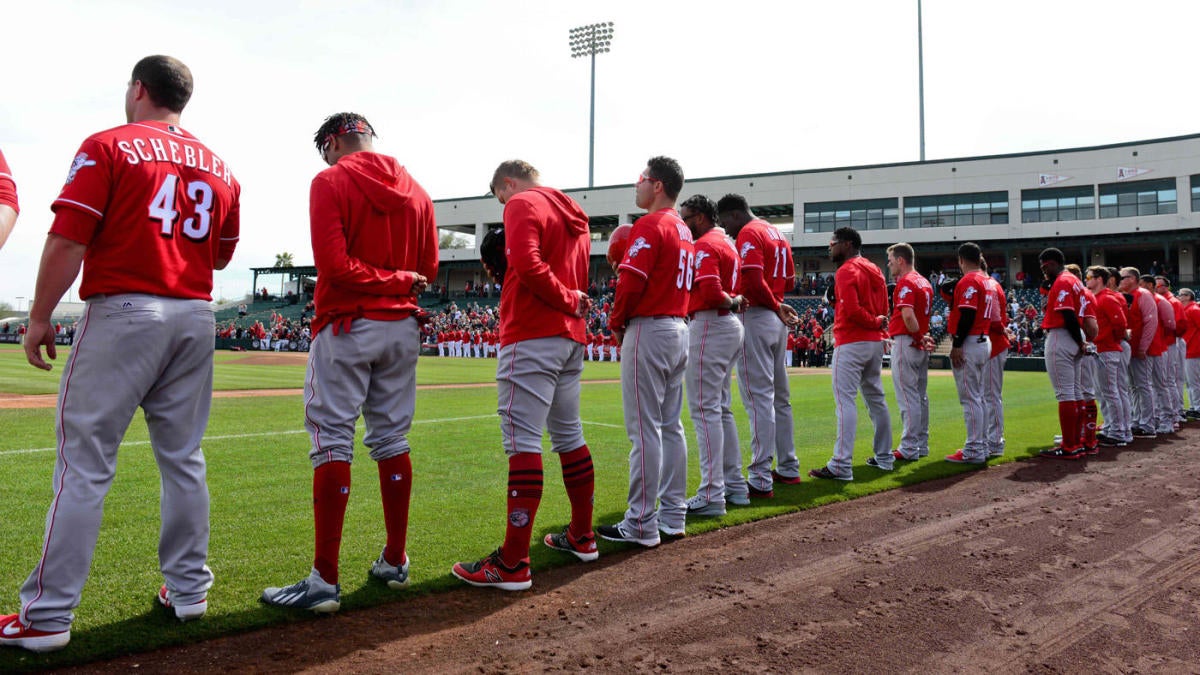 Projected Lineup: Joey Votto 1B, Jesse Winker OF, Eugenio Suarez 3B, Scooter Gennett 2B, Yasiel Puig OF, Scott Schebler OF, Jose Peraza SS, Tucker Barnhart C.
Projected Rotation: Luis Castillo, Sonny Gray, Tanner Roark, Anthony DeSclafani, Tyler Mahle, Alex Wood (Injured)
The Reds are back and better than ever. The Reds come back to Great American with a better team than last season, even though it is a rebuilding year. The Reds had a sneaky good offseason, trading away their worst but highest paid pitcher Homer Bailey and getting Alex Wood, Yasiel Puig, and Matt Kemp from the Dodgers. The Reds rotation is much improved from last season with the acquisition of Sonny Gray, whose ERA was less than 3.00 away from Yankee Stadium last season. I see Sonny a lot like I saw Matt Harvey with the Reds. Two great pitcher who cannot handle the bright lights of New York. Sonny will be solid for the Reds and do not be surprised if Luis Castillo is in Cy Young talks. Kid is a stud and really proved it towards the end of the season. The Reds lineup is explosive too. With Votto, Suarez, Gennett, Puig, and Winker this team can win a lot of games by 5 or more runs. I think they'll click early and this team will lead the division early on. I think they challenge the Cardinals for the division but ultimately fall short, but get a wild card spot. I say the Reds finish 88-74.
Projected Lineup: Lorenzo Cain OF, Christian Yelich OF, Jesus Aguilar 1B, Travis Shaw 3B, Ryan Braun OF, Mike Moustakas 2B, Yasmani Grandal C, Orlando Arcia SS
Projected Rotation: Jhoulys Chacin, Chase Anderson, Zach Davies, Brandon Woodruff, Freddy Peralta, Jimmy Nelson
The Brew Crew is back after an amazing season last year. After losing to the Dodgers in the NLCS, the Brewers maintained their team and they look solid heading into the year. Behind MVP Christian Yelich and Travis Shaw, their offense will be just as lethal as last season and it puts them in a good position for the division race. Their rotation is different though. They have no one with better than 3.00 as their ERA. That is worrisome and why I think they will not be as good as last season… unless Yelich goes on another tear. I think they make the playoffs as the second Wild Card, but lose to the Reds. They finish 84-78.
Projected Lineup: Ben Zobrist OF, Kris Bryant 3B, Anthony Rizzo 1B, Javier Baez 2B, Wilson Contreras C, Kyle Schwarber OF, Jason Heyward OF, Ian Happ 2B.
Projected Rotation: Jon Lester, Kyle Hendricks, Cole Hamels, Yu Darvish, Jose Quintana
What can you expect from this team? Who knows. This team could win 110 games but they could also barely win 80. Their offense is amazing. With Rizzo, Bryant, Schwarber, Baez, Zobrist, and Happ but their rotation is highly questionable. You look at the names of Hendricks, Darvish, Lester, Hamels, and Quintana and you expect them to be really good, but they are old and Hendricks has been irrelevant since his Cy Young type season. Hamels could provide them a spark like he did at the end of last season, but what will Darvish do? Yu has been spotty at best in Chicago and has been fighting injury the whole time. Another concern is Kris Bryant. Can he stay healthy? Because if he stays healthy this team will go far but unfortunately he never can. I think they miss the playoffs and finish 82-80.
This team has a 0% chance to win the division or make the playoffs. The only relevant thing they've done in the last decade is this. Enjoy. They'll finish 80-82.