Last night was the most excited I have been for a WWE PPV in a very long time, and I think it delivered. Sure there were a few dumb things (Nia Jax and Brock) but we'll get to that later. Let's start at the beginning. On the main card, I went 6-1 with my predictions, including both Rumble winners and I only lost Finn and Brock, because I went with my heart, not my brain.
I didn't care about these pre-show bouts but I went 1-1. Buddy Murphy retained and Shinsuke won the title back from Rusev after he kicked in Lana…dumb but oh well, keeps that storyline alive. Let's do the real matches.
Asuka and Becky put on one hell of match, that everyone kind of expected. It's a match got that repetitive at the beginning, but Becky and Asuka was probably one of my favorite matches and it has to do with one sequence in particular. Towards the middle of the match, I look at my girlfriend (who gives her review of the women's rumble further down the page) and told her this is repetitive and they are ruining this match…that was until Becky and Asuka started flying all over the place and doing one another's signature moves on each other. It lasted over 18 minutes, which seemed a little long considering everyone knew Becky would be entering the Rumble, but the fact that Becky lost clean just shows how hard WWE is trying to push Asuka and I love it. Asuka beating Becky clean, adds to her legacy and it gets the feel as if Asuka will have a lengthy title run, which she deserves. My Grade: A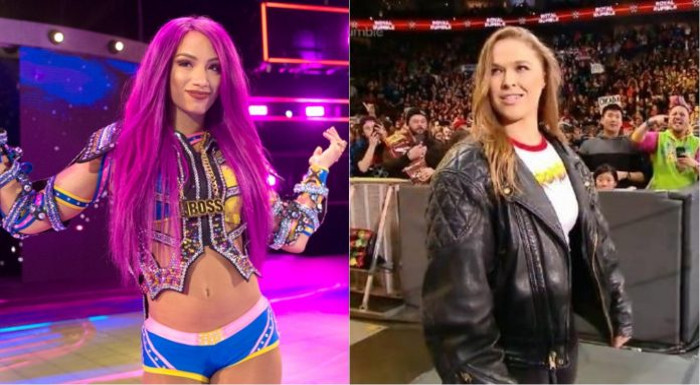 What an absolute dream match. Ever since Ronda came into the WWE, I have been dying for this match. Sasha is one of the best in the business and like I said, she's been in a stupid storyline with Bailey and she finally got her title match after being hand picked by Ronda, then defeating Nia. I mean the in ring chemistry was off the charts. My issue with Ronda was her not being able to perform and it had gotten to a point where it was bearable, but this match was her best yet and she just keeps improving. I absolutely loved it with tons of counters and reversals. Sasha almost snapped her arm off AND she broke out of the arm bar. But ultimately, Ronda hit a Piper's Pit Slam which ended things. Incredible match by these two. My Grade: A-
I'm not going to spend much time on this. It was a cool match and it was everything I anticipated it to be, but it is just a silly storyline. The match was great, Shane attempted a Coast to Coast but Cesaro caught him and they went swinging, which was just insane to see. This will eventually lead to a Wrestlemania match between Shane and Miz but it was cool while it lasted. My Grade: B-
First off, here are my girlfriend's thought…."Becky is a bad ass. Her hair is on point. Billy, I'm sorry Bailey (such a stupid name) is the vain of the WWE women's division. And it was all about the women tonight. Charlotte will forever be my queen but even I had to root against her tonight. Becky was going to end the night a champion no matter what and for once I was extremely satisfied with the ending of a WWE women's match. I really could recap all of the amazing moments and highlight all the women but I really just want to talk about Becky. We all wanted to see her fight in that match. We wanted a face off between her and Nia we wanted it to come down to Becky and Charlotte and we got all of it. Thank you WWE for giving me a practically crippled but triumphant Becky. The man really did beat the man tonight (sorry Charlotte). Special shout out to Alexa Bliss and Carmella. Alexa is such a good character and I love watching them together. Also, Bailey lose the side poney. You're not doing your face any favors."
Everything she wrote was a perfect description. I will add that Lana not being able to compete allowed Becky to enter the match, which will definitely cause some chaos on Smackdown or Raw, whenever they talk about it. Loved the outcome, needed that Becky win but the overall match was just okay. I needed more surprises, or even some older women like Trish or Nikki. Just was an okay match but was a fantastic result if you ask me. My Grade: B
I've said this before and I'll say it again, there is only one word to describe this match: repetitive. My least favorite of the entire card. The only thing that bugged me more than this match was Rowan showing up for the match and causing Styles the victory, oh well. What a fascinating storyline we now have (not). Grade: C-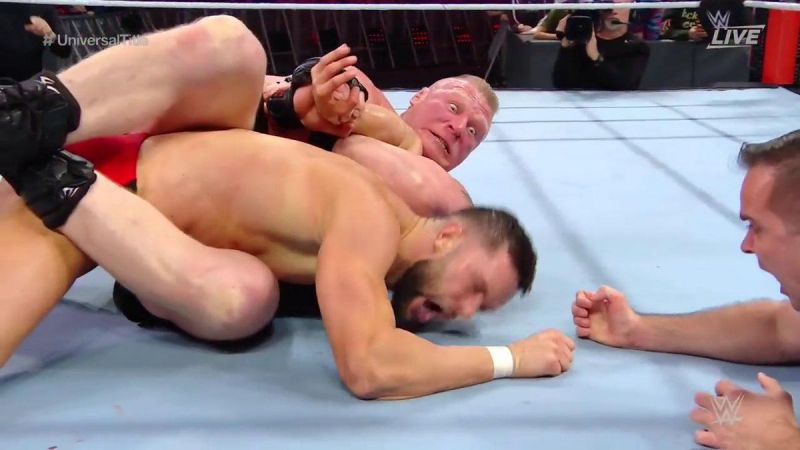 What a fucking match. Sorry, Wic, but wow. This match just proves again that whenever Brock wants to put on an amazing fight, he does. Finn's athleticism and Brock's strength perfectly meshed together causing a beautiful display of wrestling. What I especially enjoyed was Brock showing a new angle, his fight with diverticulitis and Finn going after that. It was a perfect back and forth match, which I thought would end with Finn finally going over, but nah. Brock won and became a meme, which was worth it. My Grade: A-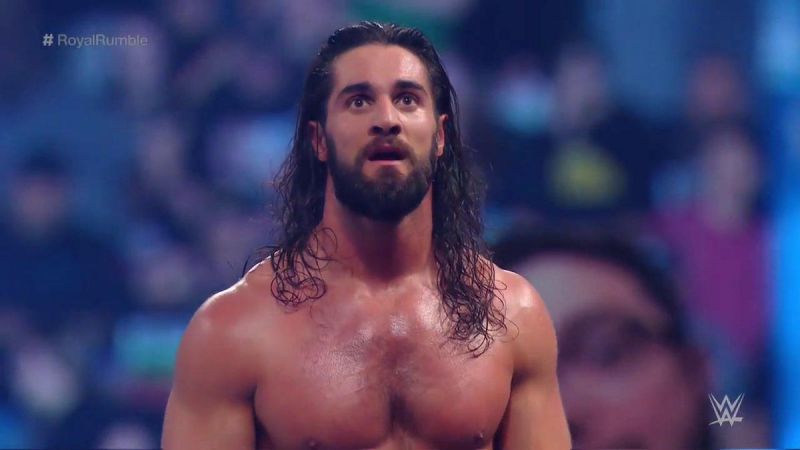 Thank you Vince, it's about time. We finally got what we, as a WWE universe, wanted for years…Seth Rollins is the Royal Rumble Champion. This match was lowkey boring as hell, until the last 15 entrances probably, but let's chat about it. Braun being in the last two was annoying as hell. Braun is not getting a push, never has been, so he was just a waste of space at the end. Nia Jax coming in at #30? So incredibly dumb, but hey good for her. Everyone was timid to hurt her, but then she attacked and Randy hit her with an RKO and Rey did a 619 and bam she's gone. The only thing this match really did not have that I wanted it to, was Roman. All day I thought Roman would come back and be #30 but oh well, he'll be back soon enough. But, in the meantime, looks like we are getting Brock vs Seth at Wrestlemania… last time that happened? Roman was there. Can Roman come back and be ready for Wrestlemaina..? Apparently so. Reports say that Roman filming a movie right now proves his situation has steadied and he should be able to return soon. So who knows, here's to hoping. Also, I need Cena to get #17, this is getting annoying right now. My Grade: B-
Overall, it lived up to the hype. My overall grade is an A- which is the best rated PPV I have ever given. Let's hope this creates an amazing Wrestlemania season.