After a long hiatus, the WWE returns with arguably their 2nd best PPV behind Wrestlemania. This Sunday, starting at 7pm on the WWE Network, the Royal Rumble takes place inside Chase Field in Arizona. After the WWE put out 5 PPV's in October-December, this break has seemed like an eternity. There are so many possibilities that could shape Mania season, so let's look at the matches.
First, the Men's Royal Rumble. This has the potential to be quite boring, mainly because I feel like we all know who will win: Seth Rollins. It has been expected for a while that Seth would win it, but they could change it last minute. The confirmed entrants are: John Cena (maybe), Dean Ambrose, Seth Rollins, Samoa Joe, Drew McIntyre, Kofi Kingston, Big E, Xavier Woods, Apollo Crews, Baron Corbin, Elias, Jinder Mahal, Bobby Lashley, Jeff Hardy, Andrade "Cien" Almas, and R-Truth (No. 30). Now, Truth will most likely lose is #30 spot, which he won with Carmella during the Mixed Tag Team Challenge, in order for a surprise entrance. My hope: Kenny Omega. I know Kenny won't show up, I know that but a man can dream, right? A few things to expect: Lars Sullivan finally shows up, Batista makes a surprise entrance, John Cena injury angle, and I pray to God, Roman Reigns makes his return. I know Roman won't but I think it would give WWE the boost it needs to remain relevant with the AEW creepin up. OFFICIAL PREDICTION: Seth Rollins wins the Royal Rumble.
Next, we have the Women's Rumble. I do not think this is a bold prediction, but this will be better than the Men's Rumble. Throughout the last year, you've heard me say that the Women's Division is more entertaining right now and I think this won't change during the Rumble. The confirmed entrants are: Carmella (No. 30), Ember Moon, Natalya, Sasha Banks, Bayley, Ruby Riott, Sarah Logan, Liv Morgan, Mandy Rose, Sonya Deville, Alicia Fox, Zelina Vega, Charlotte Flair, Naomi, Tamina, Peyton Royce, Billie Kay, Dana Brooke, Lana, Nia Jax, and Nikki Cross.The only issue with this is the Women's division does not have as many people to "fill in" as the men do, which means hello Nikki and Bri again. Look, I love the Bellas but they need to go, like go far away and never come back. Personally, I do not think there will be any big shock in this at all. I think Necky comes to play, but I mean who else? I think we all know who wins this. The final three will be Charlotte, Becky, and Carmella probably. Again, this should be more entertaining than the Men's but we'll see. OFFICIAL PREDICTION: Becky and Flair fall out at the same time, setting up a Triple Threat at Wrestlemania against Ronda.
My match of the night, I'll say it right now. This will be the best match of the PPV. Brock has a history of having his best matches against smaller opponents, which was proven again with Daniel Bryan. The thing about Roman and Braun is they are both so big and of course so is Brock, so it becomes just a strongman challenge, but with smaller opponents Brock is able to show some agility as well as how well he can take bumps. Now, I think it's close to impossible that Finn wins BUT I do think someone will intervene in this match. My guess, Braun helps Finn win by causing a distraction or that Braun causes the entire match to be DQ'ed. But, if it does come to a result, my OFFICIAL PREDICTION is Finn Balor wins..
I think this match will be kinda dull. WWE tends to overdo matches and to me this is one of them. Look, I love Daniel Bryan and his whole comeback story and I love AJ and I know this match will be absolutely wild but to me, Daniel Bryan wins and we all know that, so it makes this less interesting for me. I will still watch it, every single second of it and I know I'll be entertained, but it will be repetitive. OFFICIAL PREDICTION: Bryan Retains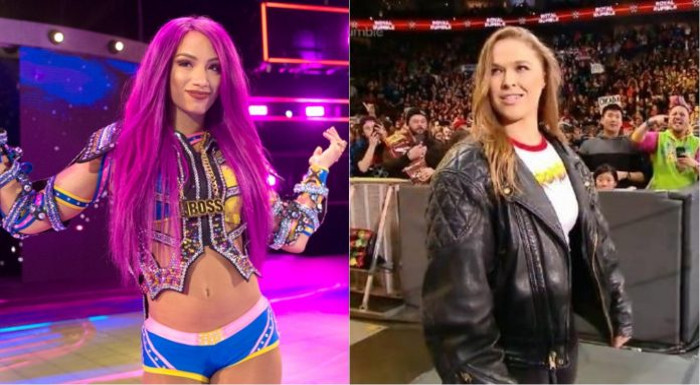 One word to describe this match: FINALLY. Sasha Banks might be one of my favorite women wrestlers of all time. Sasha time and time again puts on some of the best matches in the company and now she is finally getting her opportunity. She has been stuck in the Bailey storyline, which will hopefully lead to those two winning the first ever Women's Tag Team Titles, but she finally gets the break from it that she deserves. Ronda has also gotten much better. Like Brock, she is able to take bumps and actually looks like a seasoned veteran at some points. Ronda will not lose this, mainly because there are rumors Wrestlemania 35 is her last battle so she can start a family, but Vince is setting up a Becky vs Ronda match and we will get to see two of the best in the game (maybe 3 please add Flair) Main Event Wrestlemania. OFFICIAL PREDICTION: Ronda Retains
Not even gonna give this the time, Asuka wins. It will be a great match and I want Becky to win, but in order to go with the storyline it will be Asuka.
This match has a chance to be a shock. Maybe the Miz and Shane win, but we can guarantee one thing: Shane and Miz will start their feud after this. If they win, they will hold the title for a little but have a huge fallout setting up the inevitable Wrestlemania match for Shane. I really don't know how this will go but OFFICIAL PREDICTION: Shane and Miz win.
Other matches: Rusev will retain against Shinsuke and I want Itami to win, but I think Murphey retains. Here's to a great Rumble…