Yesterday we had the best Championship Weekend of all time. First, we finally got the four best teams playing for their own respective conference championships. Second, it featured the top 3 quarterbacks in the game (Brees, Brady, Mahomes), maybe top 4 depending where you rank Goff after this. Third, we have controversy. And lastly, they both went to overtime, which is just unreal if you think about it. We'll start in New Orleans…
First and foremost: Thoughts and Prayers to our co-founder, Parmesan Don. Die hard Saints fan, you just hate to see him down. Secondly, I told you all to take the Rams +3.5 and the under 56, so I hope to God you did. This game, like I said it would be, was my game of the day. The game was absolutely unreal and it started with the Saints pulling out to a 13-0 lead. I remember telling Wic, "the Saints need a TD here after the Goff interception", but they kicked the FG and it all could've been different if they had scored a TD there. Everyone says the Saints are different in the dome, which they are, but the way Goff kept his composure and the way McVay made adjustments is just amazing. In this game, we saw everything. We saw unreal throws, great defense, great kicking, but we saw horrible officiating. In fact, the game changed because of it.
While the Saints were driving under 2 minutes left, there was a missed pass interference call as well as a missed helmet to helmet call, both on the same play. While this doesn't necessarily determine the outcome of a game, it killed the Saints momentum and allowed the Rams to have a chance to tie, which they did. Afterwards, league officials apologized to the Saints but what does that accomplish? Things need to change, but I don't know. I'd like to say they review every penalty in the final 2 minutes, but there was no penalty so it doesn't change anything. Who knows what the fix will be, but it was an embarrassing display from the top NFL officials. But credit to McVay and Goff. They remained so calm, in the face of adversity and pulled out a HUGE win in the Dome. McVay and Goff may be the new Brady-Belichick but they have to beat them first. Now we go to Arrowhead….
Okay, I'll say it. I'm jealous of Tom Brady. Brady is like that one kid you hated in grade school but everything went his way so you had to respect him. Brady is just unreal. He's a human cheat code. I said in my preview that I'd take Patriots -3 and the under 56.5 which would've hit it @barstoolbigcat hadn't"t jinxed it at halftime. So I finished my day 3/5, netting some big money. But anyway, Brady controlled this game. From the first snap, they ran it down KC throats. Some absurd stat, Brady and Belichick are 60-1 in games where they have a 100 yard rusher, which Sony did today. It's just crazy to me how dominant they are. The game was decided with 2 minutes left to go in the first half. Andy Reid finally calls a timeout, which he should not have and the Pats score to make it 14-0 at half. It was 17-7 in the fourth and then it got crazy. This is where the officiating took over.
Edelman muffed a punt or so we thought. Looking at all the angles, his thumb moved back and to the left but the officials saw otherwise and reversed it saying it didn't touch him. The most annoying part of it all, all the calls went New England's way. But, as Tony Romo messed up on the broadcast, the ball never lies and Brady was picked plays after. The game went back and forth but we all knew Tom would pull it out. Which sets up maybe the best, on paper, Super Bowl in the last few years.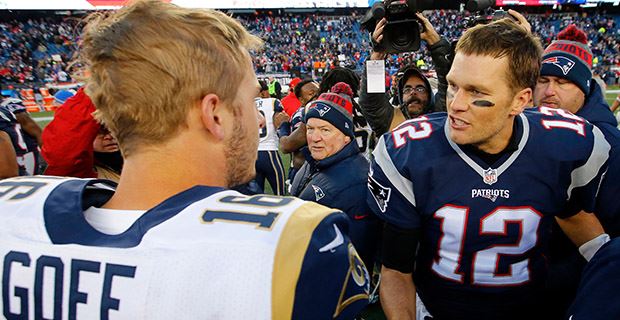 In two weeks in Atlanta, the Rams will play the Patriots, exactly 17 years after they met the first time. This time it's different. The Rams are the young, dangerous team with a genius at head coach and a very good quarterback. To me, this game seems easy. Patriots all the way. The early line had the Pats -1, which I took immediately. I will also take the over, what ever it is set at. This game has the potential to be a classic, just like last nights games were. But only time will tell….